Space Heater / Femenine
Out: October 9, 2022
Since the beginning of this year (2022) I've been experimenting with durational performances, in the spirit of the NYC minimalists and performance artists of the 70's. The concerts have been called
8 Hours or 8 Minutes
, a sort of joke referring to the perception of time, but a critique of the standard 8-hour workday/40 hour work week. To perform for such a long stretch of time on a single instrument (a Prophet 12 and Strymon Volante) is both physically and mentally demanding. It requires a shift in perspective and to get there I followed the advice of a good friend: To approach playing not as a mountain climb, but as a love affair. Leaping off the cliff from this foundational understanding, the performances are not tests of endurance, but deep inner journeys, explorations of love and awareness witnessed in a public setting. I liken it to riding a wave: a swelling of emotion which is palpable in the room, building gradually over the eight hours I perform.
I struggled with the best way to share this experience with those who are not present in the moment and came up with the idea of releasing these durational singles. Each side consisting of a live recording of one fragment of the longer performance. Something wonderful about releasing music digitally is that we are no longer restricted by the time limitations of physical media. I am happy to take advantage of this to present my first single, sharing with you my experiments in time.
Space Heater
is a warmup. A piece which I play at the beginning of each performance. Much like LaMonte Young's
The Well Tuned Piano
, it develops and grows each time it's performed. This piece is deeply important to me, it forces me to slow down, to listen, and to settle into the performance. It almost instantly shifts my perception of time and allows me to quiet my mind. Recorded live on July 22, 2022, at the UdK in Berlin.
Improvisation on Julius Eastman's Feminine
is my interpretation of Julius Eastman's composition. Incorporating several themes from the piece, I weave them into my own improvisations and motifs, creating an ambient, atmospheric tapestry. I spent the weeks leading up to my first 8-hour performance listening to the recording of Feminine from beginning to end at least once a day, it instilled in me a deep sense of joy and play. It is somehow light and serious at the same time, and I owe a very large debt to this beautiful composer. Recorded live on March 19, 2022, at Moos Space in Berlin.
durational performance, 1:1, solo synthesizer
photos by Frankie Casillo
Tappan Zee

Tappan Zee is a collection of three songs which reach across space and time to explore the frailty of human memory and inter-generational relationships. It pulls from a variety of influences: the patience and atmosphere of Eliane Raduige, the complex patterns of Balinese Gamelan (I studied with Gamelan masters I Wayan Sanglah and Pasek Sucipta), the mediative pacing of John Hassel's fourth world, the electronic excursions of Skee Mask, and the spirituality of Alice Coltrane. Created across several years and locations (Berlin, NYC, Madrid, & Ubud) the music itself is a bridge constructed of questions. What happens when the location of a memory no longer exists? When the people in the memory are dead or they themselves do not remember the moment? Where do memories exist, can they be tied to certain objects?

Tappan Zee is based on a foundational memory. On an evening in 1986, my grandfather, father, and I pulled over onto the side of the Tappan Zee bridge, got out of the car, and stood looking up at the sky. High above us was Haley's comet, brighter than any star. After my initial excitement ebbed, a new emotion arose, and with it an acute awareness of time. I knew that when the comet next appeared, my grandfather and father would be long dead, and I would be in my grandfather's place. This sudden realization filled me with a distinct flavor of sadness.

In the years that passed this memory gradually faded. However, it recently jumped to the front of my mind when the demolition of the Tappan Zee was announced, and again when reading Kamau Daáood's inter-generational poem The Men. Both are the moments that gave this work its wings and forced me to confront the inevitable passage of time, made even more poignant now that I am a father myself.


Tear of The Clouds takes its name from the lake which is the source of the Hudson River – the river which the Tappan Zee spanned. This piece is a mix of influences and sources. It sounds to me of rain drops, of individual molecules of water in movement. Discretely emotional, it is the current that sets us on our way.


The Men owes its name to the poem of the same name by Kamau Daáood. I discovered. Kamau's poetry while browsing the shelfs of the City Lights bookstore in San Francisco. Years later this poem set off a chain reaction of memories and emotions, and gave flight to this collection of music. The Men in this context refers to the three of us, grandfather, father, and son, standing on the bridge, a frozen moment in time. The glitch at the end is intentional – a left over fragment from an earlier album ordering, as if the music itself has memory, holding on to its previous context.


Honoring Debussy's La cathédrale engloutie, this song is about the sunken Tappan Zee, which was demolished in 2017 and is now beneath the waters of the Hudson River. Starting gently with gamelan inferred patterns, the piece gradually moves through three transitions, and ends with the ambience of my piano, recorded in my living room with the windows open, allowing for the sound of life, of the present moment to resume.

About the Art

The album artwork was sourced from Librado Romero's iconic photo of the Tappan Zee Bridge. I decided to repeatedly re-copy the photo 36 times (the number of years that had passed since Haley's last appearance) creating via a visual feedback loop the degradation a memory might experience over time. This is a similar type of process that Éliane Radigue used for the first part of her seminal Opus 17, or William Bassinski used for Disintegration Loops, but with image instead of sound. I got the chills, when on the 36th time the printer ran out of ink, and the bridge itself had disappeared, just as the Tappan Zee of my memories.

Album Credits

Written, Recorded & Mixed by Eric Maltz
Percussion on The Men & Le pont englouti by Renu Hossain
Mastering by Walter Coelho
Album Art by Eric Maltz
Graphic Design by Clovis Wieske
music
about: time, memory, family, haley's comet, tappan zee bridge
Neither quite the same, nor quite another:

Minimal Difference and the Sonic Real in the music of Éliane Radigue

Éliane Radigue, now well known for using an ARP 2500 synthesizer to write her music, spent her early years composing with two tape decks, a microphone, and speakers. It is with this minimal studio system that Éliane was able to create several feedback based musical masterworks. A deep and spiritual composer, she employed her compositional methods with exactitude.
Examining hercompositional technique through the lense/gaze/grimace of Lacan's Real provides a unique perspective to a rich method. This paper draws a fundamental connection between the early tape music of Éliane Radigue to the Sonic Real by examining two of her pieces (
Opus 17
and Vice-
Versa
). Far from imposing a philosophical context onto Éliane's music, her own view points on her methods of composition are not at all far afield from the concept of Minimal Difference as it pertains to the Lacanian Real.
In addition, it seems that the
Etude
from her composition
Opus 17
utilizes the same compositional technique as Alvin Lucier's
I am sitting in a room
and was created at the same time (1970), however with a completely different philosophical approach.
In the feedback-based music of Éliane Radigue we have a ring side seat in the world of self-referential compositional methods and its implications. Her music is a bridge across the Parallactic Gap of Minimal Difference, and the Real emerges not through trauma or terror, but through healing and wholeness.
Read More...
research
about: éliane radigue, minimal difference, feedback, opus 17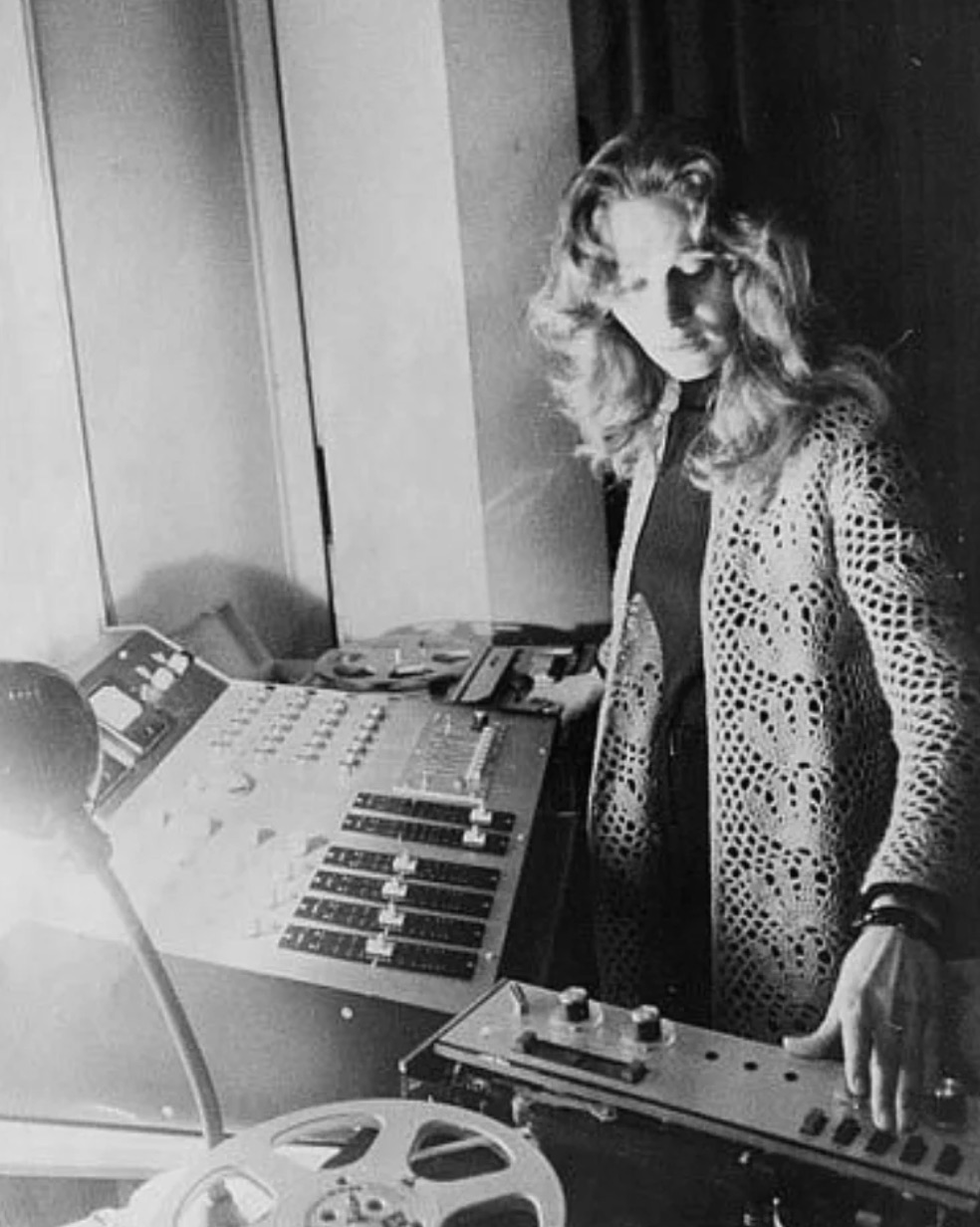 Photos from left to right: Éliane working in her home studio by Yves Arman, the Korean DMZ by Harbage, from Man an his Symbols by Jung, setting up for the premier of Chry-ptus by Yves Arman.